Produzent Lorenzo di Bonaventura hat nun darüber gesprochen, das es wohl keinen Optimus Prime Movie geben wird. Viel eher wird es es zwei Charakter Film mit Optimus Prime und Bumblebee.
"I do not intend to do Optimus' solo film. In the sequel to Bumblebee, I'm thinking of two characters, Optimus and Bumblebee. That way, Bumblebee can do something with Optimus."
Lorenzo hat erklärt, dass der Kumpelfilm höchstwahrscheinlich wie Lethal Weapon sein wird. Er erwähnte auch, dass die Rolle von Optimus größtenteils der Rolle von Danny Glovers von Roger Murtaugh entspricht.
"When I heard that the movie 'Bumblebee' will be made, I was wondering what Optimus would think. Bumblebee was supposed to be Optimus' sidekick. That's why I want to write about Optimus as I drew him in Bumblebee in detail."
Und er spricht davon, das Transformers Bumblebee 2 ein bisschen mehr von 'Beyhem' hat.
"…the audience had asked us several times, in different ways, 'I want to get to know a Transformer better." We did that. In some respects, definitely a tip to what the audience had said to us. The interesting part is when you set out to do something like that, you don't exactly know the ramifications of it. In this case, the ramification of it was, for the people who didn't love the movie, was not enough action. Because you're telling a more intimate story, therefore you can't." stated the producer.
"Several lessons have come out of this. One is that we have the freedom to tell almost any story. The other is that, how strongly the audience identified with the strength of character and emotion. I know the next Transformer, our attempt anyway, is to sort of do a fusion of Bumblebee and the Bay movies…a little more Bayhem. And a little bit more of the character falling in love within the emotional dynamic of the movie. One of the things I want to do—and I hope we pull it off—is, we did it with Bumblebee because he's so cute and he's so accessible, but he can't talk. I think the more human we can make these characters, the more people are going to like them."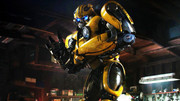 Quelle: theriver.jp
Bin zwar immer noch Fassungslos das Bee besser an kam als die Bay-Filme, na gut, der 4 und der 5 war auch Schrott.
Aber dass man hier wirklich einen Kumpel-Film machen muss?
Die ersten 5 Minuten von Bee waren grandios, der Rest war eben ne Teenie-Grütze, wie bei Power Rangers der gestern im TV lief (hier waren die letzten paar Minuten gut und das erste 4/5 des Films ne Teenie-Grütze).

In G1 wurden uns viele verschiedene Charaktere gezeigt, auch in den andern Serien und selbst in den Movies hatte man die Wahl, welcher der persönlich Lieblings-Bot sein konnte.
Hier werden uns offenbar nur zwei zur Auswahl gegeben.
Stelle mir gerade vor wie OP und Bee an nem Tankschiff siezten und Öl Trinken, wie an einer Bar Bier (ähnlich zu den Animated Constructicons), und über das Leben sprechen.

Die TF Kino Filme sind für mich mit Bee gestorben.
Von daher werde ich mich so gut wie es geht aus Diskussionen bezüglich des neuen Films raushalten - manchmal muss ich aber doch noch meinem Ärger Luft machen.

Tja das ist wie bei dem neuen MP-33...der Großteil finds sauüberteuert und beschwert sich...trotzdem wird die Grütze gekauft wie geschnitt´n Brot ...
Auf das was der gute Lorenzo so labert würde ich jetzt mal garnichts geben. Der redet viel und sagt wenig bzw. oft auch das Falsche. Der ist nur Produzent und hat mit Stories, Kontinuitäten, Charakteren, etc. mal garnichts am Hut. Also mal abwarten und Tee trinken.